Professional Colorgrading
Imagine a grading system that operates as fast as you think. That is SCRATCH.
GPU-based since 2003, SCRATCH has become the go-to software for professional colorgrading and finishing. Literally anything is just a click away - or, thanks to user-defined panel mapping, a button push. Through its advanced grading tools and easy-to-use color management, SCRATCH allows artists to never say no to a client. You can work layer-based or node-based with top-of-the-art color tools such as Vectors, Curves, 6 different Qualifiers, beautiful scopes and much more in the most streamlined UI the industry has ever seen.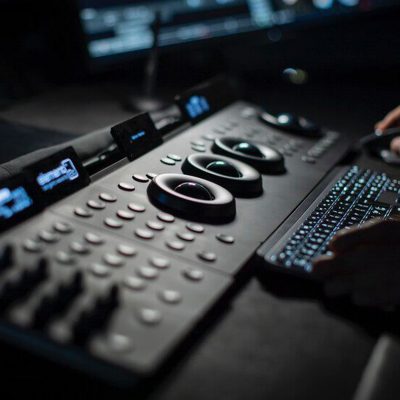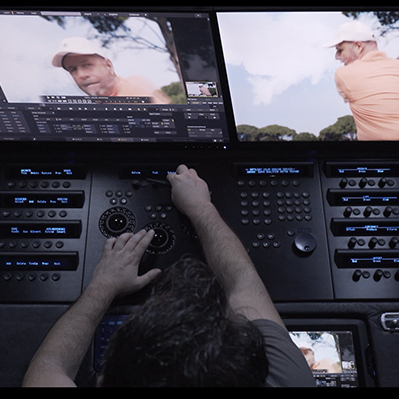 High-End Finishing
SCRATCH does not stop at colorgrading. It is a complete finishing tool, that allows for realtime client-attended compositing, using OFX plugins and free matchbox shaders. Need to place a police car here? Add sky replacement there? Remove that crew member in the background?
With SCRATCH, it's done within seconds, while the client next to you drops his jaw to the floor.
VFX-Review and Asset Management
SCRATCH is being used by major VFX houses around the globe as the central hub for VFX shot management and review, since it allows to easily manage a zillion versions of shots and timelines in the most visual way possible. It conforms EDLs, XMLs, AAFs and more - including support for Avid Markers to update clips with VFX shotnames. Through its excellent metadata support, SCRATCH can transcode camera RAW footage of any kind into metadata-rich OpenEXR sequences, even with frame-based metadata. SCRATCH's review tools allow for simple note comments in various colors, as well as on-screen annotations - all of which can be exported as PDF reports.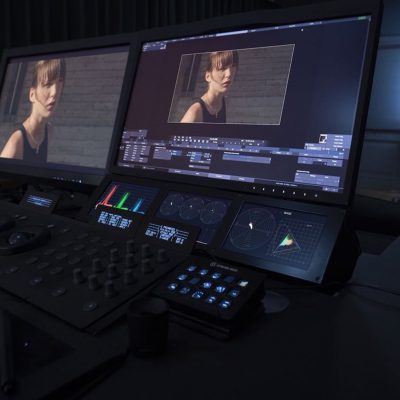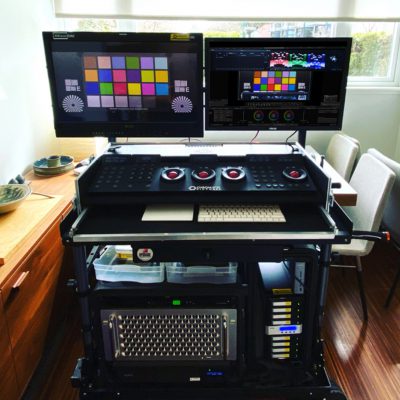 High-Speed Dailies Transcoding
Being an essential part of DIT Pack+ SCRATCH sets the industry standard for dailies transcoding. It has automated features for LUT application, look management and audio-sync. SCRATCH pulls as much metadata as possible from both, audio files and camera RAW - including frame-based metadata - and automatically forwards everything to the target format. No matter whether it's DNx MXF for Avid workflows, high quality H264 for online review, OpenEXR for VFX or ProRes Quicktime for Premiere and Final Cut workflows - SCRATCH encodes it at an incredible speed, equally on macOS and Windows. Being able to export extensive Clip reports for any use case goes without saying.
We do a lot - but we don't want to be everything
Every software has its limits. When reaching those limits, it's paramount to have a fast-track connection to other software. This is why SCRATCH features integrated bridges to Nuke and After Effects, native support for ScopeBox and Nobe OmniScope, as well as a direct integration with Light Illusion's ColourSpace calibration software and Hedge Offloading and Backup. And if that is not enough, you are free to integrate it to any level into your custom in-house pipeline via XML scripting hooks.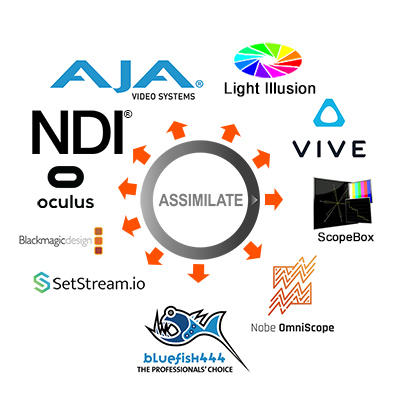 NotchLC - a powerful codec for volume projection and more
SCRATCH allows to encode and decode NotchLC Quicktime clips of any resolution on Windows and macOS (incl. Apple M1 support). With its powerful decoding engine, SCRATCH can playback 8K and beyond even on modest hardware. This makes it highly suitable as a player for large volumes or other LED wall installations.

Until the end of 2022 we offer a free add-on trial license for the NotchLC encoder. With this it's posstible to encode any content, whether it's ProRes, Notch Blocks, or camera RAW footage to NotchLC in resolutions up to 16k x 16k. Included in the resulting NotchLC files is all source metadata, and most importantly playback relevant metadata like color space and gamma information, so the content shows up on the LED wall as intended. Try out SCRATCH with the NotchLC encoder by clicking the TRY button on the right!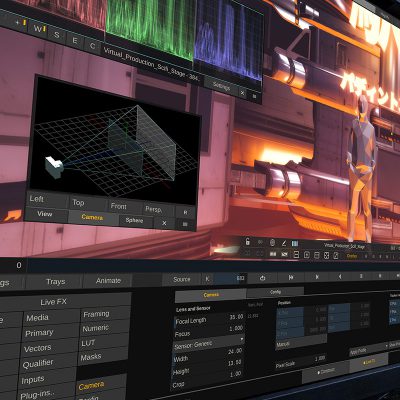 Notch Blocks - next gen 3D environments
With Notch Builder, you can create amazing motion graphics and interactive VFX in real-time, then generating Notch Blocks as output. SCRATCH can import and manipulate Notch Blocks* - complete 3D environments, built in Notch Builder. Depending on which parameters are exposed in the block itself, SCRATCH can animate more than just the camera position and FOV: Any object or property of the scene is adjustable. Using SCRATCH's powerful animation editor, users can now create complex camera moves, or import camera tracking data from on-set to recreate the movement of the physical camera. That's not all - Notch Blocks can also have any number of inputs, that SCRATCH can feed textures or plugins into, in order to create the perfect illusion.
*requires a Notch Playback license, which can be obtained from the Notch website.
Project Management
• Construct: manage and group multiple timelines and shot versions
• Wide selection of project defaults and user settings
• Easily manage thousands and thousands of shots in a single project
• Media management as integral aspect of your project
• Manage and switch easily between shot versions
• Manage composite elements in Staging
• Manage all shot metadata; camera metadata, dailies references, user colored annotations, etc.
• On-screen review annotations using paint brush and notes
• Easy add/update metadata for multiple shots at any time using the Media Browser
• De-construct a timeline to create a unique media set
• Consolidate project media to move or archive a project
• Switch between Toolsets: Finish, Dailies, Review

Player
• Single-view, dual-view, split-view, A-B view
• Range selection and playback
• Slip second view independently
• Preview on dedicated video-io, or through DualHead
• Playback of all VR-formats: Equirectangular, Cubic, Cubic Packed, Mesh
• 360-mode playback of 360 and 180° VR media for both, mono and stereo
• Audio Channel routing of up to 16 channels (input/output)
• Loop, Bounce, Once playback modes
• Playback speed (1x - 50x)
• Playback Cache
• Frame-, Clip-, Keyframe- and Notes-Navigation
• Create quick reference snapshots
• Customizable Viewport Layout
• Perspective view showing layer in Z-space
• Scene camera setup / animation for 2D and Stereo
• Play List - start SCRATCH as a Player with a (*.splx) playlist file

Render & Cache
• Create and manage an output tree with multiple resolutions, framerates, colorspaces, etc.
• Manage output templates with all your standard deliverables
• Render any output (range) on the fly
• Cache single shots or the full timline
• Same as Source Render

Dailies
• Ingest of ALL source shot metadata
• Per-Frame metadata (ARRI Raw and RED RAW)
• Read scene/take, comments and circle take metadata from synced audio files
• Create custom Metadata tags
• Set Debayering defaults for all RAW media formats
• Output file-naming and folder structure based on metadata
• DIT-report generation (incl. selection of all available clip metadata)
• Burn-in of all available metadata
• Quick-Entry menu for updating Scene and Take
• Pre-defined QC notes to be applied through hotkeys
• Output templates and project defaults
• Specific Output templates for PIX, DAX, MediaSilo and COPRA web dailies
• High Quality input and output scaling
• LUT Cycler to quickly switch between LUTs
• Background rendering
• Hardware accelerated h264/h265 decoding
• LTC detection in camera embedded audio
Audio sync
• Automatically sync audio, based on timecode for smart-slate shoots and automatically import scene/take/circle take info from BWF file header
• Semi-automatic sound sync through Waveform analyzer and spike finder
• Semi-automatic sound syncing with sync markers
• Manual sound syncing with millisecond-accurate audio slipping
• Automatic sync based on LTC

Mastering
• Support for reading and writing HDR10 metadata into mp4
• Support for reading and writing VR-related metadata into H264
• Export h264/h265 essence streams for (BluRay-) mastering
• Create an output mastering tree using nodes to create versions of different resolutions, color spaces, framerates and even grades.
• (De-)interlacer Node
• Support for subtitle (.SRT, .STL) inside Burn-in Node
• Full ACES support
• Color Space management incl. PQ & HLG
• Multiple SDI-outputs across multiple output devices
• Waveform, Histogram, Vectorscope, Curvescope, CIE Plot

Stereo
• Easy Stereo Setup function to wrap shots in a stereo node for full stereo-workflow
• Manage Stereo Convergence
• Stereo Camera Scene setup per shot/scene; create single grading/comp layers in Z-space for both left/right eye.
• Manage Stereo tool: quick switch between left/right eye or grade and comp directly on master-stereo node
• Output any stereo pattern or separate left / right fifle sequences

Live Streaming
• Live stream your grading session out to Youtube, SetStream.io, Vimeo, Wowza, or a custom streaming server
• Capture other live rtmp streams to comp into your own live stream

Collaboration
• Share projects between multiple systems in a single facility on shared storage
• SCRATCH online project repository to work with multiple artists simultaneously on a single project from places all over the globe.
• SCRATCH remote: connect multiple SCRATCH systems from all around the world for a creative grading session.
• Stream SCRATCH output directly to a media server for others to live view your creative work.
• Publish to ASSIMILATE Dailies Online, Vimeo or YouTube to share content online and in a secure manner for review and approval.
• Sync Player: slave one or more SCRATCH players and (remote) control playback from the master system.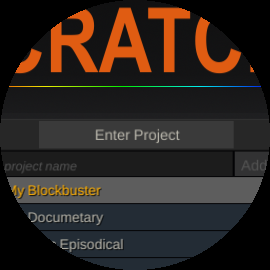 Format Support
Source Media
• Uncompressed media (DPX, TIFF, TGA, SGI and Quicktime files from digital, tape or scanned sources)
• Multi-Layer OpenEXR 16/32-bit (all compression schemes) format support
• Other image sequence formats: JPEG, JPEG2000, BMP, PNG
• NotchLC MOV
• Notch Blocks (requires Notch Playback license)
Camera Formats
• Sony F65/F55/F5 RAW, XAVC 4K, X-OCN, X-OCN XT, SONY SRFile (SStP) MXF
• Canon C200/C500/C700 RAW (RMF & CRM), C100/C300/C500 MPEG2, XF-AVC MXF, XF-HEVC MXF, EOS 1D/5D/7D
• Panasonic AVC-Intra MXF, Varicam V-RAW
• Nikon N-RAW
• RED REDCODE RAW (R3D) support incl. Weapon, Helium, Monstro and Gemini 8K
• ARRI RAW (ARI, ARX and MXF)
• DNxHD/HR and Apple ProRes
• Phantom Flex 4K .cine RAW
• Blackmagic RAW
• Apple ProRes RAW
• Cineform (RAW)
• CODEX RAW
• AVCHD (MTS & M2TS)
• Kinefinity RAW (DNG & KRW)
• Cinema DNG (incl. Blackmagic, AJA, AATON, Bolex, Kinefinity, Ikonoskop, Panasonic, Pentax and DJI)
• DSLR Raw Photo formats
• H.264 (MP4, MOV & MXF up to 10 bit 4:2:2)
• H.265/HEVC (up to 12 bit)
Encoding Formats
• Apple ProRes (ProRes 4444XQ, ProRes 4444, ProRes 422 HQ, Proxy, LT)
• NotchLC MOV (requires NotchLC encoding license)
• Avid DNxHD/HR MXF
• DNxHD QuickTime
• H.264 (MP4, MOV and raw essence stream in 8 and 10 bit)
• H.265/HEVC (MP4, MOV and raw essence stream in up to 12 bit)
• Cineform DPX and Quicktime
• QuickTime files with various codecs
• DPX, TIFF, OpenEXR, JPG2000, JPG, CIN, TGA, SGI, PNG
• AIF, AMB, w64, WAV broadcast wave audio files (BWF): mono, stereo and multi-channel, ambisonic audio

Ancillary Device Support
• SDI: AJA, Bluefish444, Blackmagic
• Control Surfaces: Tangent Wave/Wave2, Ripple, Element, CP200 and Avid Artist Color
• VR-Headset: Oculus, Vive and any Steam VR engine supported headset (also on Mac)
• ScopeBox Support via ScopeLink
• OmniScope Support
• Light Illusion ColourSpace CMS Integration
• Newtek NDI Support
• Support for (multiple) RED Rocket and RED Rocket-X acceleration cards
• Wacom Pen & Tablet

Editorial / Conform
• Multi Layer Timeline editor (NLE)
• Conform: CMX EDL, AAF, XML
• Reverse Assemble
• Pull shotnames from AVID markers in EDLs
• Load and compare conform with Reference clip
• Export metadata including: CMX EDL, ALE, CDL, CC, HTML, CSV, XML
• Support for many AAF/XML effects, like Pan&Scan, Timewarp, etc.
• Support for AVID markers in marker lists and EDLs
• Batch-conform LUTs and CDLs based on clip metadata
• Scene Detection
• Flatten multi-layer timeline to single video track with video layers.
• Timewarp / Retimer

Finishing
• Primary grade Lift, Gamma, Gain and CDL
• CDL grading modes: CDL wheels, CDL sliders, LGG wheels
• Unlimited layers of grades; free-form and pre-defined shapes
• 1D/3D LUT support: import / export
• CDL and CTL support: import/export
• Look management: Memory grades and Galleries
• OpenColorIO Support
• New Vector Tools for advanced color remapping
• Panel Support: Element / Wave / Wave2 / Ripple / CP200 / Avid Artist Color
• Masking
• Curves with on-screen pick&drag functionality
• Soft Clip parameters
• Keyers: RGB, HSV, Chroma, Luma, Vector
• Support for third party OFX effect plug-ins
• Tracking: 1-point / 2-point and planar tracker
• Fill / matte layers
• Effect control animation + animation editor
• Advanced animation filters (High-pass, Low-pass, Noise, Reduce, Smoothen, Level)
• Blend modes for layers and tracks
• Realtime Bicubic image warper
• Node-based compositing
• Layer-based compositing in 3D-space
• High Quality Pan&Scan
• Vector Paint for scratch-, wire-, and rig- removal
• Node-based caching of heavy composites
• Action-/Title-safe guides incl. blanking
• Support for Autodesk Matchbox Shaders
• User-defined control surface mapping
• (Directional) Blur
• Color Channel Remapping
• Control Luma weights and Print Light settings
• Virtual Camera animation
• Multi-sampling modes and motion blur for smooth animations

Scripting
• XML scripting for pipeline / third party software integration
• SPA effect plug-in interface (next to OFX)
• Custom Commands for pipeline integration
• Integrated script for round-trip workflow to After Effects
• Integrated script for round-trip workflow to Nuke

Pick My Plan
SCRATCH is available as:
a monthly automatic recurring subscription - $89 USD
a 1 year rental - $695 USD
a permanent license (incl. 1 year of support & updates) - $1200 USD
support renewal with a permanent license - $650 USD
a site license (contact sales for more info)
Each license comes with full access to the latest version and all updates of the software, as well as access to our technical support team.
Note that a permanent license comes with 1 year of support. After that, you can continue to use the software but to be eligible to further software updates or contact to our technical support team, you need to extend your support contract.
A site license offers you an unlimited number of licenses to be used within your facility.
Please contact sales for more info.
What you need to run SCRATCH
OS: Windows 10, OSX 10.12 and up.
CPU: Any modern Apple, Intel or AMD processor.
GFX: Any modern graphics card. Preference for high end graphics: Apple Silicon / NVIDIA Quadro / AMD Radeon PRO. Note that on systems with standard Intel graphics not all features might be supported.
RAM: Min 8Gb. Preferred 12Gb or more.
SDI (optional): AJA, Bluefish444, Blackmagic.

See detailed system requirements here.