Camera to Post Workflow - Live Grading Plus
The workflow starts with Live Looks for live grading content from any number of cameras in real time and even adding advanced effects like green-screen background replacement and texture effects. Each time when saving a grade, all the metadata, either input by the user or delivered via the live SDI signal from all cameras, will also be saved in the form of a readable text doc and an XML that is suited for further pipeline scripting in VFX/post. All grades and metadata are stored in an easy-to-approach folder structure that can simply be delivered to VFX/post.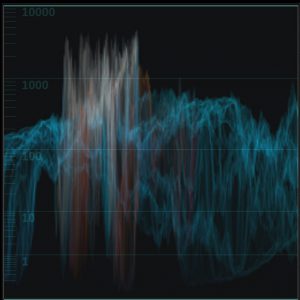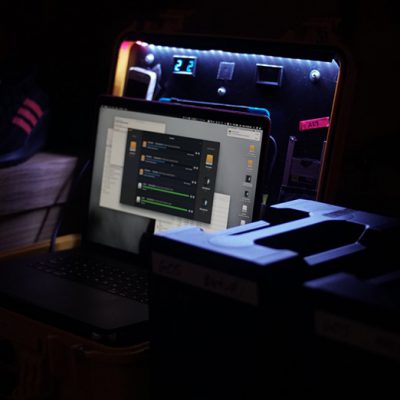 Offload & Backup - fully integrated!
All footage shot will get offloaded to multiple destinations with Hedge, the industry leading offload tool for camera media. Through its Fast Lane Engine Hedge can do multiple backups simultaneously, including source verification, destination verification and all necessary checksums. Via the Preferences inside the App, Hedge can be set up to automatically load all backed up footage into your SCRATCH project, ready for QC, audio sync and look matching.
Dailies Transcoding, QC and Reporting
In Scratch, all camera material is loaded, and the looks and metadata are matched and merged from the Live Looks folder structure, along with automated syncing of audio. All these tasks are automated and require almost no user interaction. Scratch will output in many formats as required by VFX/post:

• Offline DNX or Apple ProRes material, including all metadata for offline editing
• High quality EXR VFX plates, including frame based lens information and camera metadata
• Lightweight h264/h265 rushes for online review

The flexibility of Scratch allows the user to either consolidate all look and metadata files into a folder per day, or copy the look and metadata next to each source media file, thereby easily linking in any other DI software. Producers and post supervisors receive an extensive clip report, listing all relevant production information, and assistant editors are provided with an ALE that contains all clip metadata, including dynamic CDL information, to use in the target NLE.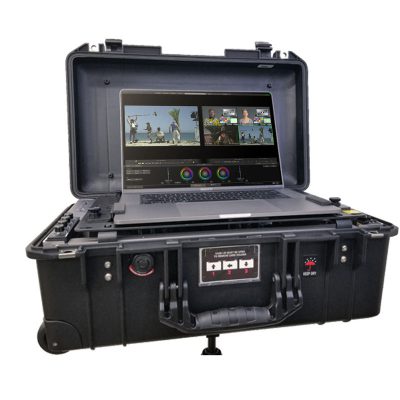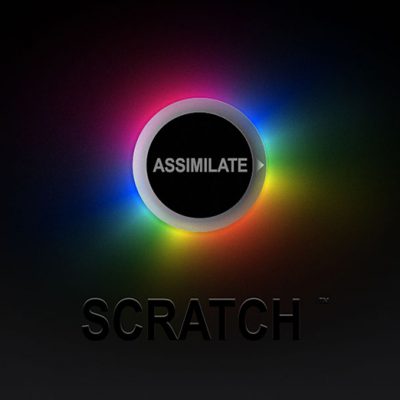 Extensive Remote Review and Streaming Capabilities Throughout the Entire Workflow
At the live grading stage, Live Looks provides a local web interface for clients on- or near set to browse grades, before-and-after snapshots, and metadata via wifi during the shoot. At the same time, Live Looks allows streaming of all camera feeds through either an RTMP stream or via NDI® directly into Zoom, Skype, SetStream.io, or any other NDI®-compatible software. At the dailies stage, Scratch separately outputs through RTMP and NDI® for in-depth remote QC of all footage. After transcoding, Scratch allows for automatically publishing footage to the Assimilate Dailies Online web portal or the COPRA dailies platform via direct script integration. Providing highest level service on-set, while keeping remote clients connected and providing post with all footage, transcodes, grades and metadata has never been easier and straight forward.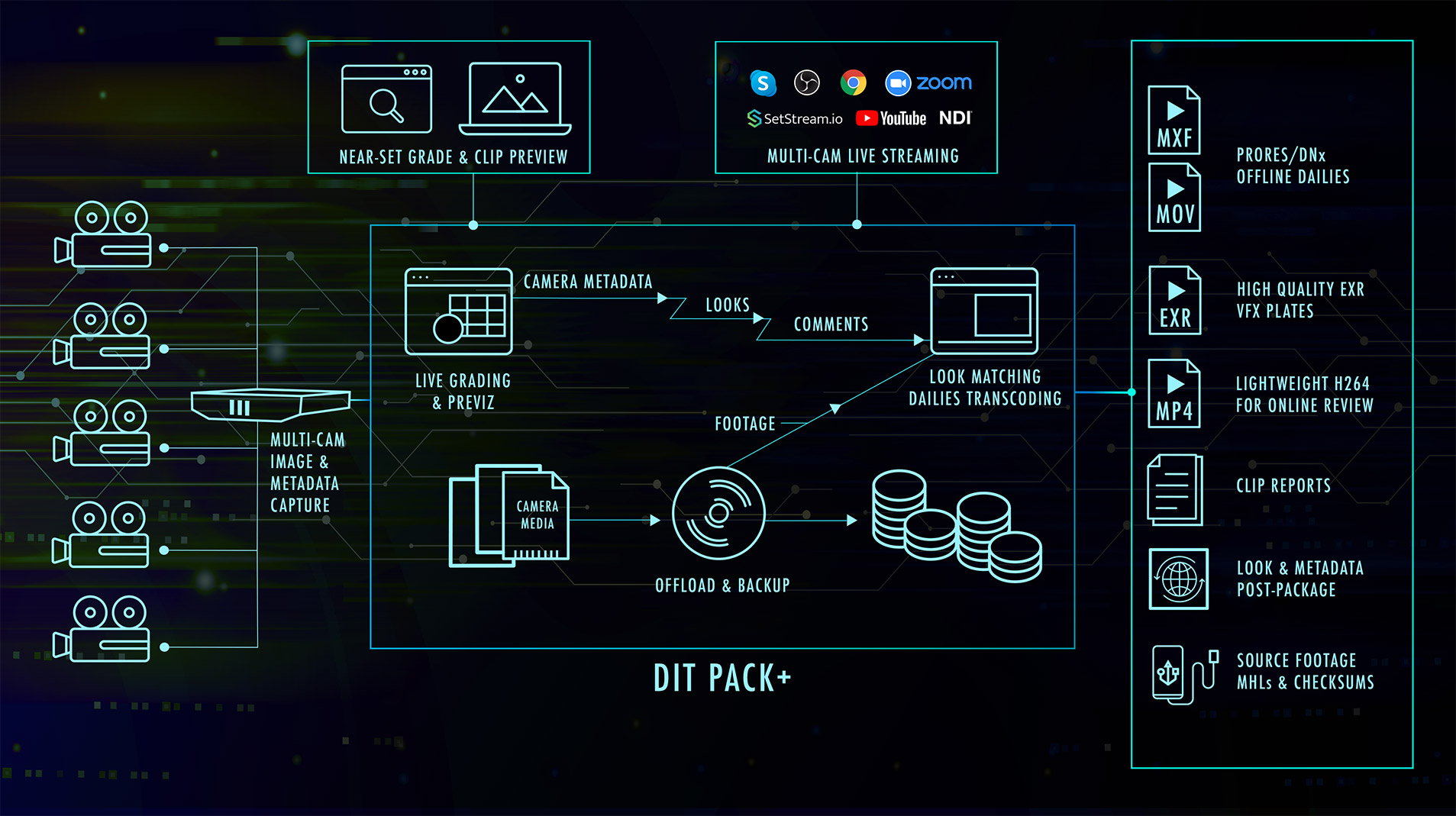 Better than just live grading
Live Looks provides an easy to setup environment for on-set video monitoring and live grading for any resolution from standard HD all the way up to 8K workflows. Packed with professional grading- and FX / green screen tools, it is straight forward to operate and offers a seamless connection into your dailies and post workflow. Live Looks comes with an integrated webserver to provide all grades and looks On-, or Near-Set via Browser interface and allows to live-stream one or multiple cameras to any online streaming platform - such as Youtube, or SetStream.io.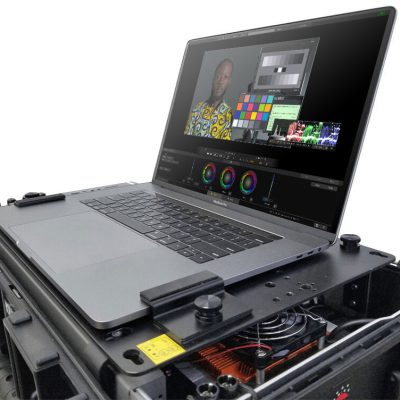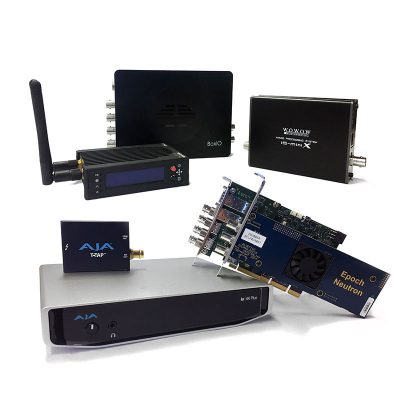 Supporting what you have
• Available on macOS and Windows
• Support for AJA KUMO and Blackmagic Smart Videohub Routers
• Advanced scopes through ScopeBox and OmniScope
• Support for Flanders, Teradek and TV Logic LUT-boxes
• Support for video-io from AJA, Bluefish444 and Blackmagic for image- and full camera metadata capture
• Support for Newtek NDI Capture and Output


Workflows without Limits
• Up to 8k resolution workflows
• Live-Stream one or multiple camera feeds to Youtube, SetStream.io, or any other streaming platform
• On-/Near-Set instant review of recordings from any device through integrated local webserver
• Direct reference recording to ProRes on macOS and Windows
• By processing the live camera feed via video-io, allowing for more direct grading and comparing looks
• The easiest and quickest way to setup and preview a green-screen set
• Seamless path into dailies and post: Look-matching in SCRATCH and CDL-EDL transfer to Resolve
• Fully colormanaged environment to ensure the looks you create will come out the same in dailies / post
• Manage all metadata, annotate camera input and generate production reports
• Load and playback literally any camera format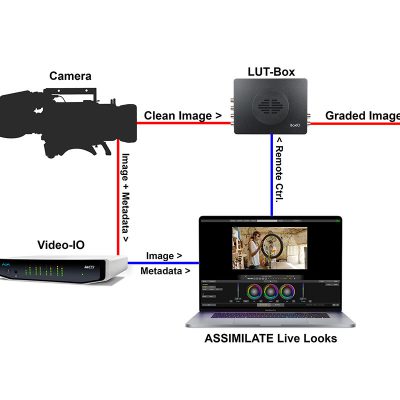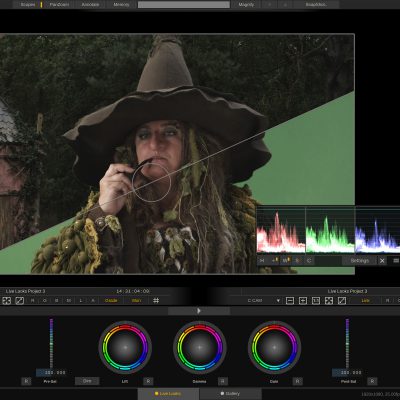 The Tools to make the Grade
• High-end grading toolset: Lift, Gamma, Gain and CDL tools
• Powerful Curves and easy to use Color Remapper
• LUT Cycler
• Realtime texture effects like Grain, Highlight Glow, Diffusion and Vignette
• Realtime Skin Retouch Tool for enhance and soften skintones
• Advanced chroma keyer to replace green screen backgrounds with just two clicks for previs
• Pan, Scan and Rotation of the Live SDI signal
• Frame Guides for letterboxing, Action- and Title Safes

Fast & Easy Offload
Hedge is the industry standard for offloading camera footage from the storage cards and creating multiple backups to various destinations simultaneously. Forget about dragging folders around using file browsers - Hedge does it all at lightning speed through it's custom Fast Lane copy engine. When copying media, Hedge verifies source and destination, as well as creates MHLs and different types of checksums, along with transfer logs. Hedge is Netflix certified and 100% complies with Netflix' delivery requirements.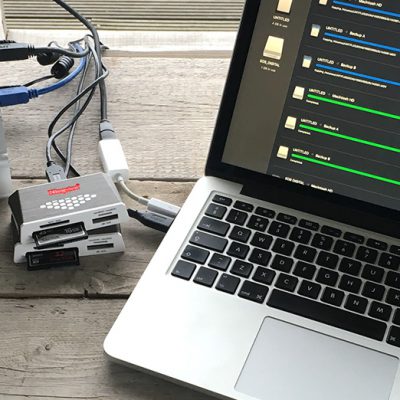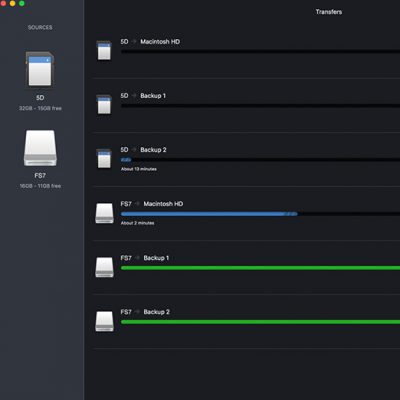 Tightly integrated with SCRATCH
Hedge features a tight integration with SCRATCH: Upon completing a backup job, Hedge can automatically create a new timeline inside the SCRATCH project and populate it with the backupped media from a user-defined backup destination. The bridge between the two applications is literally set up within seconds, by just telling Hedge which SCRATCH project to populate, which filetypes to consider and what naming conventions to use. This saves an enormous amount of clicks each day and helps automating tasks that do not need user supervision.
Best-in-class format support
There is rarely a format you can't throw at SCRATCH. It supports all common (and uncommon!) RAW formats incl. Blackmagic RAW and ProRes RAW and can render them at lightning speed to Avid DNx MXF, H264, OpenEXR, ProRes (also on Windows) - and many more! Its node-based output tree structure lets you chain in Burn-ins, transformer nodes, color space converters, grain emulators and more.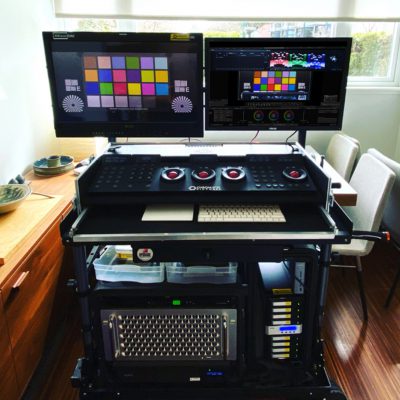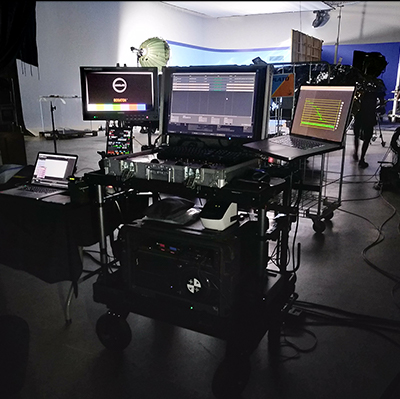 Metadata & Reporting
Metadata is everything these days. SCRATCH can read all and any metadata from not only RAW files, but even generic Quicktime files. With RED, Sony and ARRI RAW, SCRATCH even supports frame-based metadata like Pan, Tilt, Roll, focal distance or focus length information, which is incredibly useful in VFX. All that metadata can be used for Burn-ins, output filenaming and be included in PDF Clip Reports, which will also feature user comments and annotations made during QC. Needless to say - all of the source metadata will be forwarded to the target output files as well and can even be exported as an ALE.
Audio Sync and Look matching
Whether it is one generic show LUT, or LUTs and CDLs per scene, take or even camera - SCRATCH allows for advanced look matching, no matter where the looks are coming from. If the live grading was done using Live Looks, SCRATCH will automatically find, match and apply the corresponding looks to the just imported clips and can even copy, rename and consolidate any of the looks according to the underlying footage. Audio sync can be done timecode-based, as well as manually with so-called sync markers. SCRATCH is also able to read and apply LTC from both, audio and video clips in order to find and match the timecode. Any metadata, such as scene and take information, or even comments from the sound recorder and marked circle takes will be taken over and attached to the corresponding clips as metadata.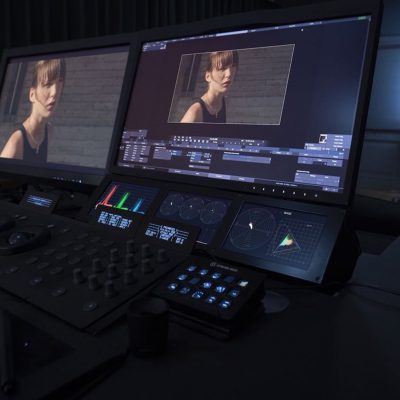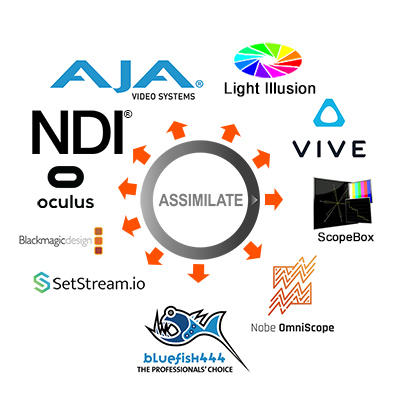 Maximum flexibility
SCRATCH can automate a whole lot of tasks, but it also leaves plenty of room for customization and 3rd party implementations. It supports all grading panels from Avid and Tangent (100% user customizable) - also native support for Nobe OmniScope, ScopeBox, Light Illusion ColourSpace, NDI and all sorts of OFX plugins and free Matchbox Shaders.
Pick My Plan
DIT Pack+ is available as:
a monthly automatic recurring subscription - $149 USD
a 1 year rental - $899 USD
a permanent license (incl. 1 year of support & updates) - $1499 USD
support renewal with a permanent license - $699 USD
a site license (contact sales for more info)
Each license comes with full access to the latest version and all updates of the software, as well as access to our technical support team.
Note that a permanent license comes with 1 year of support. After that, you can continue to use the software but to be eligible to further software updates or contact to our technical support team, you need to extend your support contract.
A site license offers you an unlimited number of licenses to be used within your facility.
Please contact sales for more info.
What you need to run DIT Pack+
OS: Windows 10, OSX 10.12 and up.
CPU: Any modern Apple, Intel or AMD processor.
GFX: Any modern graphics card. Preference for high end graphics: Apple Silicon / NVIDIA Quadro / AMD Radeon PRO. Note that on systems with standard Intel graphics not all features might be supported.
RAM: Min 8Gb. Preferred 12Gb or more.
SDI (optional): AJA, Bluefish444, Blackmagic.

See detailed system requirements here.